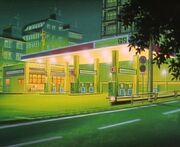 The Esso Gas Station is a gas station in Shibukawa City, Gunma. It is owned by Yuichi Tachibana. It sits near a large apartment building/hotel and is next to a highway. Despite the assumption the real life gas station is somewhere in Gunma, its actually located in Tokyo.
Esso is an American company founded in 1912. The company began operating in Japan in 1962.
The station features a total of 6 gas pumps, each with their respectable levels of octane fuels. Inside the gas station is a desk, a small couch, and a TV. There are also several vending machines located on the premises. Adjacent to the main building is an attached service garage where cars are sometimes parked. The gas station also features a car wash in which the car is left stationary and the washing superstructure moves around it independently.
Esso employees wear a uniform that changes throughout the different stages. Overall, it generally consists of a button shirt, a hat, khaki style pants, a bow tie, and black shoes.
There is a running joke amongst the gas station employees where one must "drink the high octane." This phrase is meant to communicate how the person it's directed towards needs to wake up and or use their brain (high octane being a performance gasoline, the joke is the persons brain would benefit form drinking it). Takumi Fujiwara was the victim on this joke/prank on at least one occasion
Community content is available under
CC-BY-SA
unless otherwise noted.