The Ultimate Tofu Store Drift (究極のとうふ屋ドリフト, Kyūkyoku no tōfuya dorifuto) is the first Act of Initial D First Stage.
This episode features the impromptu battle between Takumi Fujiwara and Keisuke Takahashi.
Synopsis
[
]
High school kid Takumi Fujiwara works at a gas station with his buddy Itsuki Takeuchi. When the guys join their co-worker Iketani for a night of street racing action on Mt. Akina, Takumi's life will never be the same.
Plot
[
]
The plot begins with a summer midnight scene on Mt. Akina, with Yuichi Tachibana driving on the mountain's roads. Suddenly, a mysterious, white Toyota AE86 drives past him, to which he acknowledges and commenting that "the guy hasn't changed a lot".
On the next day, Takumi and Itsuki were taking a break before their final exam. Itsuki was extremely passionate about buying an AE86 as Takumi remained spaced out. After the final, the two friends went off to work at the gas station, where Itsuki continued to ramble on about the AE86. Their coworker, Iketani, joins in on the conversation and invites them to come with him tonight to the Akina SpeedStars meeting. Itsuki agrees while Takumi reluctantly tags along. Natsuki meanwhile meets her 'Papa', her sugar-daddy and they drive in his Mercedes while talking about money matters.
Having overheard the conversation to meet up at Mt. Akina, Yuichi briefly mentions a mysterious AE86 owned by the local tofu shop remains indisputably the fastest car on Mt. Akina to Iketani, who finds it rather hard to believe in.
Later that night, Iketani picks up Itsuki and Takumi and drives them up to the top of Mt. Akina, with the latter screaming and panicking as Iketani drifts his way to the top of the mountain. Once there, Takumi was noted to be extremely exhausted and scared from the drifting, which he told Itsuki that he wouldn't understand how he feels. At the same time, a local racing team called the Akagi RedSuns has also reached Mt. Akina and challenged the SpeedStars to a race on the following Saturday. Not afraid to be challenged, Iketani, as the leader of the SpeedStars, agreed to the challenge and a practice run with the RedSuns team.
During the practice run, the SpeedStars team realized their skill could never reach the RedSuns, with the opposing team's leaders, Ryosuke Takahashi and Keisuke Takahashi, concluding how easy it will be to take down the Akina SpeedStars. As the brothers decided to not partake next Saturday's time attack match, Ryosuke told Keisuke to race instead. That way, they will have a permanent time record that will be unparalleled.
At the end of the practice run, the SpeedStars members went home, depressed with their results in the practice run. Meanwhile, some members of the RedSuns stayed on Mt. Akina, including Keisuke. Near early morning, the remaining RedSuns members agreed to head back to Akagi. Keisuke takes the lead, noting that he should slow down as his members have not reached his skill level just yet.
However, immediately after his comment, two headlights suddenly appeared on his rear-view mirror. As the car approached, it was apparent that it wasn't a car from the RedSuns. Wondering if it was an MR2 or 180, Keisuke continued his drive down Mt. Akina, feeling increasingly challenged the longer the mysterious car stayed on his tail. During a drift, Keisuke saw that the car was an AE86. Ashamed and outraged that an 86 could catch up to his FD3S, he pressed harder against this new opponent.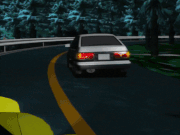 As both cars reached a right turn, Keisuke braked as the 86 drove forward, as the former feared that having too much speed for the upcoming right turn would cause a crash in a tight left turn that comes immediately afterward. However, the 86 driver performed an inertia drift, recovered, and successfully passed a shocked Keisuke.
Stats
[
]
Airdates
[
]
Characters (in order of appearance)
[
]
Cars
[
]
Music
[
]
Japanese
[
]
Original
[
]
5.1 Version
[
]
Funimation
[
]
Tokyopop
[
]
Initialize - Drop Logic
Wire Trip - Full Frequency
In Yo City - Octavia "Jymini" Harris
Let Loose - Young Sons
Pop It - Marlon D. White (Gemini), Kile Baker (Mindsetta), Hanif Winston (Mr. N.S.C.I.N.S.E.) and Jaron Thorne (Jhey-Tezee)
The American Dream - The drp
Initialize (Instrumental) - Drop Logic
Initialize (DJ Milky D-Mix) - DJ Milky & b_nCHANt_d
Credits
[
]
Original
[
]
Director - Shin Masawa
Series Composition - Koji Kaneda (Fuji TV)
Script - Hiroshi Toda
Storyboard - Shin Masawa
Episode Director - Shin Masawa
Music - Ryuichi Katsumata
Original Manga - Shuichi Shigeno
Character Design - Noboru Furuse
Art Director - Kazuhiro Takahashi
Chief Animation Director - Noboru Furuse
Animation Director - Takahisa Ichikawa
Sound Director - Masafumi Mima
CGI Director - Akihiro Nagao (Studio Nest)
Director of Photography - Seiichi Morishita
Executive Producer - Ren Usami (OB Planning)
Producer - Hiromichi Mogaki (Studio Comet), Kayo Fukuda (Pastel)
Assistant Animation Director - Kazuhiro Shintani, Kiyotaka Iida
Assistant Director - Teruo Naruse
Assistant Producer -Kuniyasu Ichikawa (Prime Direction), Sadahito Kikuchi (Studio Comet), Shigeo Sugimura (Studio Gallop)
Background Art - Katsuki Takao (Studio Jack), Kazumi Kataoka (Studio Jack), Minoru Akiba (Studio Jack)
CG - Emiko Hatanaka, Kazuhira Tanaka, Nobuaki Hayashi, Sadanori Kaneda
Color Design - Naomi Anzai
Color Setting - Naomi Anzai
Compilation - Koji Kaneda (Fuji TV)
Digital Supervisor - Kouji Kobayashi
Editing - Akihiro Kawasaki (Okayasu Promotion), Hajime Okayasu (Okayasu Promotion), Hideaki Murai (Okayasu Promotion), Kiyotaka Miyake (Okayasu Promotion), Toshihiko Kojima (Okayasu Promotion), Yumiko Nakaba (Okayasu Promotion)
Editorial Supervision - Keiichi Tsuchiya (Hot Version Editorial Dept.)
Effects - Masayuki Nakajima
Effects Cooperation - Kunji Tanifuji
Ending Production - Transformer
Finish Animation - Eiko Tokuda (Peacock), Eri Okamoto (Studio M), Fumiko Ishiguro, Hajime Aida (Peacock), Hiroko Takahashi (Studio M), Kayoko Suzuki (Studio M), Kimiko Ookura, Noriko Omura (Peacock), Ritsuko Kanazawa (Peacock)
In-Between Animation - Kazuhiro Fukuchi, Kenji Nakano (Wonbat), Sansai Onoki (Wonbat), Shingo Ohyama (Wonbat), Tomohisa Ishiyama (Wonbat), Toshiharu Suzuki (Wonbat), Yō Hashimoto, Yoshiaki Iwata (Wonbat)
Key Animation - Aki Nishizaki, Kazuhiro Shintani, Kiyotaka Iida, Tadayoshi Okimura, Takeshi Yamazaki, Yojiro Shige, Yuichiro Masuda, Yukio Oya
Layout Supervisor - Chihiro Hayashi
Opening Production - Shinji Kobukata
Photography - Katsuaki Kamata (Studio Twinkle), Katsumi Ota (Studio Twinkle), Kenji Takehara (Studio Twinkle), Koji Sawada (Studio Twinkle), Masayuki Iwata (Studio Twinkle), Tadafumi Ono (Studio Twinkle), Takashi Aoki (Studio Twinkle), Takashi Kimishima (Studio Twinkle), Tatsuji Fukumoto (Studio Twinkle), Tomofumi Fujita (Studio Twinkle)
Planning - Ryuuzou Shouji (Prime Direction)
Production Advancement - Takehiro Miyashita
Production Business - Miwa Tagawa
Production Supervision - Wataru Hirukawa
Promotion Video - Wataru Takeishi
Publicity - Sachio Tamenaga (Fuji TV)
Recording - Fujio Yamada
Recording Assistant - Yuji Tagami
Sound Effects - Kenji Koyama
Sound Production Manager - Takeshi Takadera
3DCGI - Nest
Animation - Pastel
Animation Production - Studio Comet, Gallop
Backgrounds - E-cho, K-Production, Studio Jack
Broadcaster - Fuji Television Network
Development - Tokyo Laboratory
DVD Distribution - avex mode
Editing - Okayasu Promotions
In-Between Animation - BAEK KOO, Studio Wonbat
Music - Avex Trax
Music Cooperation - Avex Group
Paint - BAEK KOO, Studio M, Studio Peacock
Photography - Studio Twinkle
Production - Fuji Television Network, Kodansha, OB Planning, Pastel, Prime Direction, To Max
Recording Studio - Aoi Studio
Research Cooperation - ONIX Shin-Oume Accel Auto
Sound Production - Techno Sound
Titles - Maki Production
English Reversioned by Funimation Entertainment
Executive Producer - Gen Fukunaga
Producers - Carly Hunter, Justin Cook
Line Producer - Colleen Clinkenbeard
Head Writer - John Burgmeier
Script Writer - Eric Vale
Cast:

Bunta - Kent Williams
Iketani - Eric Vale
Itsuki - Josh Grelle
Takumi - Joel McDonald
Keisuke - Todd Haberkorn
Kenji - Christopher Bevins
Yuichi - Chuck Huber
Ryosuke - J. Michael Tatum
Takeshi - Chris Burnett
Natsuki - Brina Palencia
Fumihiro - Chris Cason
Narrator - Barry Yandel
Additional voices - Josh Martin, Scott Freeman, Brian Witkowicz, Nathanael Harrison, R. Scott Cantrell, Mario Rodriguez, Lauren McDonald, Justin Pate, Kyle Philips, Jim Foronda, Drew Wall, Jerry Russell, Cynthia Cranz, Jeremy Inman, Anastasia Munoz, Curtis Raymond Shideler, Liza Gonzales, Brian Witkowicz

ADR Director - Joel McDonald
ADR Engineer - Stephen Hoff
Assistant Producer - Michael Harcourt
Production Assistants - Trenton Jons, Gino Palencia
Talent Coordinator - Tara A, Williams
Mixing Engineer - Nathanael Harrison, CAS
Director, Video Post-Production - Brandon Tyler
Digital Video Coordinator - Jeff Yale
Senior Video Editors - Daniel Mancilla, Jeremy Jimenez
Video Editors - Jessie Mancilla, Robert Bell, Josh Tyler, Ashley Rosse, Christopher Bryan
Lead Video Engineer - Sarah Mueller
Video Engineer - Michael Rivas
Post-Production Assistants - Casey Barteau, Niki Cooper, Aya Spann
English Language Production by Tokyopop
Executive Producers - Stuart Levy, John Parker
Creative Director - Jennifer Wagner
Written by - Bob Buchholz
Producer - Jamie Simone, Stuart Levy
Associate Producers - Daisuke Kinouchi, Jennifer Wagner
Voice Director - Jamie Simone
English Language Cast

Takumi "Tak" Fujiwara - Dave Wittenberg
Itsuki "Iggy" Takeuchi - Robbie Rist
Koichiro "Cole" Iketani - Crispin Freeman
Keisuke "K.T." Takahashi - Steve Blum
Ryosuke "Ry" Takahashi - Lex Lang
Bunta Fujiwara - Kerrigan Mahan
Yuichi "Boss" Tachibana - Michael McConnohie
Natsuki "Natalie" Mogi - Kat Cressida
Takeshi "Zak" Nakazato - Wally Wingert
Kenji - Jason Spisak

Recording Engineer - Michael Clark
Final Mix - Michael Clark
Sound Effects Editing - Ron Salaises
Visual Effects Editing - Terry T. Marlin
Production Manager - Jennifer Wagner
Production Coordinator - Daisuke Kinouchi
Packaging Design - Gary Shum
Art Director - Matt Alford
Music Supervisor - Benjamin Chan
Background Music composed by Hiro Awanohara, Andy Yao, and Peter Price
Additional Background Music composed by b_nCHANt_d
Translation and Subtitles - Captioneering, A Visual Data Media, Services Company
Additional Translations - Daisuke Kinouchi, Bryan Masumoto, Jason Alnas, Mutsumi Miyazaki
Special Thanks to Central Anime - Todd R. Perkins, Hiroaki Fukuda, Lillian Fukuda, Barbara Girrens, Richard Roberts. Brian Bushman, Dave Hogan
DVD Menu Design - Nightjar
Recorded at Studio E
Executive in Charge of Production - Ron Klamert
Quotes
[
]
Yuichi Tachibana: He knows even the smallest stain on the asphalt on Mt. Akina. I'd even bet on it. The fastest car on Mt. Akina is the Eight-Six from the tofu shop
Keisuke: What the hell?! Inertia drift?!
Keisuke(Japanese): Na-Nani KANSEI DORIFTO
Notes & Trivia
[
]
[

]