Akagi's White Comet (赤城の白い彗星!, Akagi no shiroi suisei!) is the twenty-fourth Act of Initial D: First Stage.
This episode features Bunta Fujiwara's smoking drift.
Synopsis 
[
]
Ryosuke may already be a local legend, but he still drives like a man with something to prove. He's determined to beat the very best racers Mt. Akina has to offer - and Takumi's next on his list. Meanwhile Bunta takes Yuichi for a ride in his AE86
Plot 
[
]
Stats 
[
]
Airdates
[
]
Fuji TV: November 14, 1998
Characters
[
]
Cars
[
]
Music 
[
]
Save Me - Leslie Parrish 
Bust The Future Wall - m.o.v.e 
奇跡の薔薇 (Kiseki No Hana) - Galla
Quotes 
[
]
Notes & Trivia 
[
]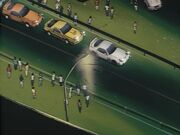 In the Funimation dub, Iketani says that "Keisuke and Takahashi don't come close to his level of ability". This line is incorrect, with the correct line being "Keisuke and Takeshi".
During one of the scenes which shows the RedSuns waiting at Akina, there is an animation error showing Ryosuke having a yellow FC, Keisuke with a white FD and Kenta with an orange FD.
[

]