Keisuke Takahashi (高橋 啓介, Takahashi Keisuke, known as K.T. in the Tokyopop version) is a major character in Initial D, and the secondary protagonist of the Project D Arc.
An ex-bosozoku gang member, he was introduced to street racing by his brother Ryosuke and joined his team, the Akagi RedSuns, and soon became their second best driver in his Mazda ɛ̃fini RX-7 Type R (FD3S). He and his brother are nicknamed "The Rotary Brothers", as they both drive cars with rotary engines. During the RedSuns expedition to Akina, he was defeated by Takumi Fujiwara in an impromptu battle, an event that helped kickstart Fujiwara's racing career and created a rivalry between the two. He was invited by his brother to join Project D as their uphill ace.
Biography
[
]
Unlike his older brother's calm demeanor, Keisuke was a hot-headed individual, he was known for driving with his emotions and his dislike for losing made him very arrogant. His pride was shattered when he encountered the mysterious AE86 during a practice trial on Mount Akina. Unwilling to accept this loss, he continually travelled to Akina to encounter the Eight Six again. He finally got his chance during the RedSuns race against the Akina SpeedStars when the AE86 driver and future rival Takumi Fujiwara arrived where he was defeated once again, since this defeat he has desired to have a rematch with Takumi until the time was right and both have become rivals since.
When Ryosuke later disbands the RedSuns in favor of Project D, Keisuke joins as well becoming a main driver of the team alongside Takumi. Under Ryosuke's mentorship, he gained more experience as a racer with his skills dramatically improving and no longer driving with his emotions and controlling them. After Project D's final race with Kanagawa's Sidewinder, he pursues his goal as a professional driver, taking his Project D mechanic Tomiguchi with him.
MF Ghost
[
]
In the new manga MF Ghost, Keisuke has retired from racing and is now the CEO of TK Mach Corporation.
As Takumi trained Kanata, Keisuke also trained one of his students to compete in MFG: Moroboshi Sena, a Toyota Supra MK5 driver.
Information
[
]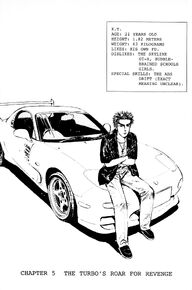 Height: 182cm (6'0")
Weight: 63 kilos (138lb)
Likes: His own FD
Dislikes: The Skyline GT-R, Bubble-brained School Girls
Special Skills: The ABS Drift (Exact Meaning Unclear)
Vehicle: Pre-Facelift (Zenki) Mazda ɛ̃fini RX-7 Type R (FD3S)
Battles
[
]
Relationships
[
]
Love Interests
[
]
Just like him, she too drives an FD3S. She fell in love with Keisuke at first sight. When Keisuke's FD broke down, she offered him to borrow hers in his next battle. Both then dated each other. In the end, Keisuke turned her down reasonably because he wants to concentrate on his goal. He did admit he liked her.
Family
[
]
He is his older brother. After being influenced by his racing skills, he decided to follow his footsteps and reason to become a professional racer. He co-founded the Akagi RedSuns and also helped his brother create Project D. Ryosuke would often coach him and prep talk in his battles.
She is his younger cousin. She usually mocks at him and even causes some tantrums.
During an impromptu battle in Takumi's delivery run, he was outpaced by him when he performed inertia drift. He lost again in their second battle became obsessed with defeating him. Because of that, he doesn't want him to lose to anyone but him and his brother. However, he began to gain profound respect for him and convinced him to join Project D before he can rematch him and turn pro. He considers him a friendly rival.
He is idolized by him and would do anything to prove himself to him. Just like Keisuke, he was part of the Akagi RedSuns (until the creation of Project D).
After both were unable to defeat Takumi in their battles with him, Nakazato challenges Keisuke in a rainy battle in Myogi in an uphill race. Keisuke won the battle leading Nakazato to argue believing he won the race by luck. Keisuke then corrects him that he used his skills to win the race fair and square.
He was his opponent prior to Ryosuke's battle against Kyoichi. The battle was decided by hillclimb. Keisuke won that battle when he overtook Seiji in the S sections.
After his brother's victory against Sudo, he challenged him next but declined because it was against the RedSuns' policy to not race on their own turf. Wataru nonetheless shows him off which nearly caused an accident. They accepted each other's challenge to race again in which they eventually did during Project D's Saitama expedition. He won against him after slipping out. They eventually became friends after their battle. Keisuke later requested help from Wataru to expose imposter Project D's schemes.
Gallery
[
]
Miscellaneous
[
]
Manga
[
]
The White Ghost of Akina Arc
[
]
Emperor Arc
[
]
The New Eight Six Arc
[
]
Tochigi Arc
[
]
Saitama and Ibaraki Arc
[
]
Kanagawa Expedition Arc
[
]
Manga Volume covers
[
]
Anime
[
]
First Stage
[
]
Second Stage
[
]
Extra Stage
[
]
Third Stage
[
]
Fourth Stage
[
]
Fifth Stage
[
]
Final Stage
[
]
New Initial D the Movie Trilogy
[
]
Overall
[
]
Legend 1: Awakening
[
]
Legend 2: Racer
[
]
Legend 3: Dream
[
]
Games
[
]
Trivia
[
]
Keisuke is apparently most famous for the words "Nani" (what) and "Kansei dorifto" (inertia drift) when he gets overtaken by Takumi performing said maneuver, which became a meme. He would also utter this out occasionally in the games (starting from Special Stage on consoles, and Arcade Stage 4 on arcade cabinets).
In the New Initial D the Movie trilogy, Keisuke's voice actor, which is Yuichi Nakamura, who is also VA for Rin Hojo in Initial D Fifth Stage and Final Stage.
Keisuke and his brother Ryosuke were parodied in Kaido Battle 2 & 3, two touge racing games by Genki. Keisuke was parodied as Ryuji Hashimoto (Mischievous Fool in KB2, HC Top in KB3) of Akagi BlueSign.
Keisuke appeared in MF Ghost as the CEO of TK Mach Corporation with Kenta.
Appearances
[
]
[

]