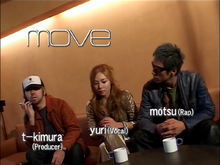 Move (styled as M.O.V.E or m.o.v.e, and previously as move) was a Japanese electronic band. The group consisted of yuri (Yuri Masuda) on vocals and motsu (Mototaka Segawa) performing the rapping. t-kimura (Takashi Kimura), their producer, left the band in 2008.
Move performed all of Initial D's opening songs and several of its ending songs, and eventually made a brief cameo in Fourth Stage, watching the race between Keisuke and God Foot.
They also made a music video, Raimei -out of kontrol-, which featured a special battle involving the m.o.v.e members teleporting into the anime they were watching and racing a red RX7 while Takumi chases them.
Discography
[
]