Natsuki Mogi (茂木 なつき Mogi Natsuki, known as Natalie in the Tokyopop version) is Takumi Fujiwara's initial love interest, and one of the few characters who does not get scared when riding in a car being driven by Takumi.
History
[
]
The White Ghost of Akina
[
]
Natsuki, before falling in love with Takumi Fujiwara, engaged in enjo kōsai (known as compensated dating) with an older man nicknamed "Papa", but it is unknown for how long she did this. It was also revealed that she had also hooked up with Miki, Takumi's classmate, and she has had sexual contact with him before. After all of this, she befriended Takumi Fujiwara and started to get to know him.
She quickly fell in love with him and began doubting her relationship with Papa. The two quickly began dating soon after, and in one notable scene the two kissed in Takumi's AE86 Trueno. Takumi's first ever official race, which was with Keisuke Takahashi, was indirectly due to Mogi as she wanted to go to the beach with Takumi and when Takumi wanted his father's car (back then it belonged to Bunta Fujiwara). Bunta offered him a deal to race Keisuke, and if he wins the battle, he will give him the Eight-Six with a full tank of gas. Takumi wins the battle and takes the car to go to a date with Natsuki. Later on she comments his Trueno as 'cute'. Particularly in the anime, Natsuki even supported Itsuki by introducing him to a friend of her. She later explained to Takumi that she broke off with Itsuki after they both got confronted into an impromptu battle with Shingo which resulted in Itsuki getting into an accident with Saori. Exclusively in First Stage Natsuki comes to witness Takumi's battle with Ryosuke and sees him crossing the finish line.
Emperor
[
]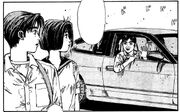 Exclusively in the manga, Takumi and Natsuki is met by Tsukamoto, a senior of Takumi at the football club. He invited both of them to visit Akagi to witness the awe of touge racing (he was not aware of the fact that Takumi was the 'White Ghost of Akina'). Later that night, Tsukamoto tries to show off his driving skills in 180SX, but instead scares both Takumi and Natsuki with his mediocre driving. Natsuki, after reaching the top, felt sick and tries to balance herself, but accidentally grazes her hands lightly another couple's S13 parked on the top and they begin to harass her. Natsuki felt she was not in the right place and in the right mood to enjoy with Takumi. Later on, when they were leaving Akagi, the same couple passes them. Natsuki asks Takumi to race them when Tsukamoto, who gave Takumi to drive his 180SX to see how his skills were, engages in an impromptu battle which ends one sided for Takumi. The couple was shocked, Tsukamoto fainted, and Natsuki cheerful and not feeling sick when Takumi raced them.
Afterwards, Natsuki felt the urge to break off her relationship with her Papa and pursue a relationship with Takumi. However, by that time, Takumi had began receiving letters behind her back about her detailing on how she is dating an older man who drove Mercedes. Shiraishi gave him the information. She was Natsuki's friend, and the daughter of the Benz Papa. She had a crush on Takumi Fujiwara before Natsuki and was jealous about it. Natsuki invited her Papa to a small family restaurant in the night, and formally broke her relationship off with him. Takumi, watching from his car in the parking lot, witnessed the two exit the restaurant and both enter a white Mercedes. Enraged, Takumi cuts contact with Mogi and heads off to Akagi to face off against Kyoichi Sudo, who earlier asked Takumi to battle against him. Takumi didn't have any plans to battle him initially, but after being enraged on seeing Mogi with another man, he decided to steam off all his anger by facing Kyoichi in a battle. This ended with Takumi blowing up his engine in the middle of the battle.
Takumi ever since that day he decided to avoid meeting with her. Mogi attempts to solve the problem with Takumi, asking if she had done something wrong. He replies with, "Good luck with the Benz guy" (English TV: Good luck with your buddy in the Mercedes), to her shock. She later contacts him and clears up the misunderstanding, and decides to remain friends. After leaving Benz Papa, Natsuki decides to work at a Fastfood restaurant as her part time job to earn money on her own.
The New Eight-Six
[
]
During Christmas, Natsuki visits Takumi's house and meets Bunta, which she later organizes a surprise party at his house on Christmas with Bunta Fujiwara, much to his shock, and they have a small party.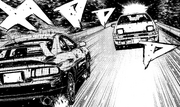 A few days later, while she was returning from school to her part time job, she is reunited with Miki, who asks about her. Later on after her shift ended, Miki gives her a lift in his car. As he realized Natsuki still had some sort of relations with Takumi, he decided to kidnap her, driving her to the top of Mt. Akina. She briefly notifies Takumi of her kidnapping, and he pursues Miki in his car up and down the mountain. Miki crashes his car on the downhill, and Natsuki rushes out to Takumi's car. He proposes to drive her home, and she explains what happened. During the drive, Natsuki decides that she will be attending a university in Tokyo to try and free herself from her past, to which Takumi agrees. They both break up for the final time and they go their separate ways on a high note.
In a flashback sequence seen while Takumi , Natsuki tells Takumi they'll meet again someday. Takumi even begins to think about her when he's driving the AE86 to overcome his "AWD Complex".
Information
[
]
Likes - Part time jobs (currently), her "Papa" (formerly), Takumi, the Eight-Six
Dislikes - Part time jobs (formerly), broken promises, Miki and smokers.
Relationships
[
]
Takumi Fujiwara
[
]
He is her classmate as well as his love interest. Ever since she shared a kiss with Takumi at the beach in Summer break, she's been wanting to break off the relationship with the Mercedes driver (papa). But she was soon found out by the time she stopped leaving Takumi to disown her after he received letters of the details in his locker. Natsuki became guilt ridden upon being discovered. In redemption, she gets a part time job hoping to win back his trust before graduation. When her ex-boyfriend Miki attempted sexual advances against her, she called Takumi to save her. After her rescue, she tearfully admitted she needed money in which she hated doing. Takumi finally understands and confessed his feelings. Both parted ways months later as she leaves him to go to college in Tokyo while Takumi stays in Gunma to join Project D. Both never saw again despite the promise they will see each other again someday as Mika Uehara becomes Takumi's new girlfriend.
Papa
[
]
Before meeting Takumi, she was involved with compensated dating with him. He is the Mercedes driver Natsuki often rides with. After falling in love with Takumi, she wishes to quit the job in which her papa accepts.
Miki
[
]
Originally her first love. He did horrible sexual advances towards her as mention in the locker room resulting to Takumi to punch him upon hearing what he did. Natsuki broke up with him as a result of that and other mistreatments. Miki tried to take her back to their previous relationship after picking her up from work but his plans were foiled by Takumi when his car crashed in a corner in snowy weather.
Itsuki Takeuchi
[
]
Also a classmate in high school as well as a friend. Itsuki often flirts with her good looks. At the same time envious as she is in love with Takumi whereas he is still single.
Saori
[
]
Exclusive to the anime, she is a classmate in high school. She hooked him up with Itsuki during a double date. Their relationship was short lived as Itsuki was knocked by Shingo resulting to both having an accident. Natsuki did not tell the truth of Saori breaking up with Itsuki during his recovery although Itsuki already knew she would eventually break up after the accident.
Shiraishi
[
]
She was Natsuki's classmate and friend. She was also the biological daughter of Papa. She also had a crush on Takumi, so on seeing Natsuki dating Takumi, she decided to blackmail her by revealing the truth about her relations.
Bunta Fujiwara
[
]
Bunta met her once when she wanted to surprise Takumi visiting their household in the Christmas holidays. She told him everything that went on ever since he shut her off. Bunta assured her Takumi still has a heart despite a slight temper he inherited from him as he chooses whom or whom not to trust depending on what the person did to him. He tells her to give Takumi a chance to decide.
Etymology
[
]
Natsuki's surname Mogi means "lush, luxuriant" (茂) (mo) and "tree, wood" (木) (ki/gi).
Trivia
[
]
Takumi Fujiwara witnesses Natsuki and Papa coming out of a Love Hotel in the manga. In the anime, it was toned down to a Family Restaurant.
Natsuki briefly works at the gas station for a time, however in the anime she works at a fast food place called "Fast Hamburger".
Natsuki owns a PlayStation, during Chapter 94 she tells Takumi about a game she spent all night playing (Ganbare Morikawakun 2Gou), telling him that he should get one.
Gallery
[
]
Manga
[
]
Miscellaneous
[
]
The White Ghost of Akina Arc
[
]
Emperor Arc
[
]
The New Eight Six Arc
[
]
Saitama-Ibaraki Arc
[
]
Anime
[
]
First Stage
[
]
Second Stage
[
]
Third Stage
[
]
Fourth Stage
[
]
Fifth Stage
[
]
New Initial D the Movie Trilogy
[
]
Legend 1: Awakening
[
]
Legend 2: Racer
[
]
Legend 3: Dream
[
]
Appearances
[
]
Anime
[
]
Manga
[
]
Films
[
]
Games
[
]
[

]