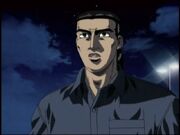 Seiji Iwaki(岩城 清次 Iwaki Seiji, "Hawk") is the number two driver in the Lancer Evolution-only Emperor team, therefore he drives the Lancer Evolution IV. Seiji is a driver with good racing skills, but he is rather arrogant and overconfident and occasionally imprudent. He has won many races driving for Emperor against other teams, including Takeshi Nakazato of the NightKids and a member of Thunder.
Back when Team Emperor appeared in Gunma prefecture to challenge the local racing teams, Seiji was sent out against every single one. He is known to have easily defeated a 180SX from Team Thunderfires and Takeshi Nakazato from the Myogi NightKids among others, taking each car's team sticker afterwards, then cutting it in half and placing it upside-down on the side of his Evo's rear wing similarly to how fighter pilots would paint kill marks on their planes.
After defeating various teams in Gunma, the Emperor team then set their sights on the Akina Speed Stars, aiming to beat Akina's infamous Eight-Six. Seiji volunteered to race for the Emperor team in his Evo IV against Takumi's Eight-Six. Kyoichi was well aware that it cannot be taken lightly and Seiji was specifically told that he was to follow "Simulation 3", a plan used only when victory was not certain. Said plan translated to "stay behind opponent, and overtake near the end before reaching the finish" but he was humiliated when his overconfidence and impatience led to his downfall, causing Kyoichi, the team leader, having to race the Eight-Six before the team could move on to the next opponent. It was also verbally stated that Seiji lost to Kai Kogashiwa in Irohazaka, but no actual battle was shown in the series. In Battle Stage, his Evo IV also raced Keisuke's FD, and lost.
One of Seiji's trademarks is to take the team sticker of teams he has defeated, cut it in half, and stick it on the sideblade of his spoiler upside-down, emulating the "kill" markers that fighter pilots paint on their planes.
| | |
| --- | --- |
| Age | 20 |
| Sex | Male |
| Car | Mitsubishi Lancer Evolution IV RS (CN9A) |
| Year | 1996 |
| Plate | 46-637, classification 78 (anime), 1-314, classification 73 (Arcade Stage Zero) |
| Color | Scotia White |
| Engine | 1997cc 4G63T IV Boost-Up Tune (300HP) |
| Custom Parts | Rear Spoiler LED brake lights removed (early arcade games), center lock differential, Evo IV GSR OEM wheels, Brembo 4-pot Calipers, aftermarket exhaust manifold, wastegate, boost controller, Large Intercooler, Recaro Bucket Racing Seats, "Monster" Hood Sticker, Custom Rally Muffler & Emperor Sticker |
| Japanese voice actor | Kazuhisa Kawahara |
| English voice actor | Grant George (Tokyopop Dub), Jason Douglas (Funimation dub) |
| Actor | Will Liu |
In Chapter 90, its revealed he is getting claustrophobic.