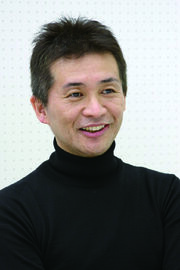 Shuichi Shigeno
(重野 秀一 or しげの 秀一 Shigeno Shūichi

?

, born March 8, 1958)
is a
Japanese
manga author
famous for the
anime
and
manga
Initial D
. Shigeno has also created
Bari Bari Densetsu
,
Dopkan
, and
Tunnel Nuketara Sky Blue
("First Love in Summer") all prior to the manga that would make him famous in 1995. In 1985, he received the
Kodansha Manga Award
for
shōnen
for
Bari Bari Densetsu
.
[1]
He owns a 1980s Toyota Sprinter Trueno with a panda white color scheme, like his manga's main character Takumi. He also owns a Sonic Blue Mica-colored 1999 WRX Type STi Version 6 with a STi sports bumper (a part from the STi sport catalogue made to look like the 22B STi bumper but fits non-wide body Imprezas) just like the main character's father, Bunta. One of his notable students is Jyoji Morikawa, creator of Hajime no Ippo.
Baribari Legend (1983-1991, serialized in Shonen Magazine, Kodansha)
Tunnel Nuketara Sky*Blue (1992, serialized in Young Magazine, Kodansha)
Shō (1992, serialized in Shonen Magazine, Kodansha)
DO-P-KAN (1993-1995, serialized in Young Magazine, Kodansha)
Initial D (1995-2013, serialized in Young Magazine, Kodansha)
Amazing Hana (2014, serialized in Young Magazine, Kodansha)
Sailor Ace (2015-2017, serialized in Young Magazine, Kodansha)
MF Ghost (2017-ongoing, serialized in Young Magazine, Kodansha)
Shuichi's Personality: