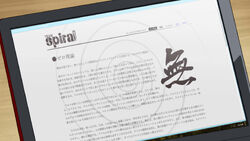 Based at Hakone Nanamagari, Team Spiral (チーム・スパイラル, Chīmu Supairaru) is the 3rd line in the "4 lines of defense" strategy formulated by team Sidewinder. Their philosophy is tuning a car to bring out its full potential to fit the characteristics and skills of the driver through heavy modification, which is often misconceived as simply buying the most expensive parts. Unlike R.T. Katagiri, the members of Team Spiral have no professional racing background and have acquired their near professional level skills from racing in the streets. The ranks of Team Spiral are unusual in the fact that Ryuji Ikeda, while being team leader, is not considered the number 1 driver. It appears that the Daikanzan Observation Deck in Kanagawa acts as a meeting place for the team since Ikeda meets Hiroya Okuyama there before his impromptu battle with Rin Hojo, and also later returns there with Rin during the Fifth Stage finale battle against Go Hojo.
Community content is available under
CC-BY-SA
unless otherwise noted.