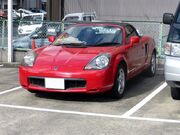 The Toyota MR2 is a two-seat, mid-engined, rear-wheel-drive sports car produced by Central Motors, a part of Toyota, from 1984 until July 2007 when production stopped in Japan. There are three different generations of the MR2: 1984–1989, with angular, origami-like lines, 1990–1999, which had styling that some compared to Ferrari sports cars, and 2000–2007, which somewhat resembled the Porsche Boxster.
It was designed to be small, with an economical powerplant, but sporty in style and handling. Basic design elements, such as MacPherson strut front and rear suspensions and transverse-mounted inline-four engines, are common to all three generations of MR2, though each generation differs greatly from the next in particulars.
Specs shown are for the G-Limited models, which are naturally aspirated.
Engine Name: 3S-GE
Engine Type: Inline-4 DOHC, 16V
Max power: 180hp / 7000 rev / min
Maximum torque: 19.5 kgm / 4800 rev / min
Displacement: 1998 cc
Drivetrain: MR
Aspiration: NA
Length: 4208 mm
Height: 1247 mm
Width: 1709 mm
Weight: 1240 kg
Transmission: 5MT (5-speed manual gearbox)
The SW20 suffers from a very serious weakness - snap oversteer. This makes the car extremely demanding to drive at a fast pace, and especially difficult to drift and causing it to spin due to its mid-engine design.
MR-S (ZZW30)
Edit
Engine Name: 1ZZ-FED (Kai's version used a 2ZZ-GE engine swap)
Engine Type: I4 DOHC
Maximum power: 140 hp (Kai's version produced 190 hp)
Maximum torque: 170 Nm
Displacement: 1794 cc
Drivetrain: MR (propulsion)
Aspiration: NA
Length: 3895 mm
Height: 1235 mm
Width: 1695 mm
Weight: 996 kg
Transmission: 5MT (5-speed manual gearbox)
Body Kit: C-ONE Motorsport
Due to the 1ZZ-FED engine found in the ZZW30 MR-S having somewhat average performance, many owners like to swap their MR2 engine with a more powerful, high-revving 2ZZ-GE that was normally found in a ZZT231 Celica. This also happens to Kai, where his ZZW30 MR-S had its engine swapped with a highly tuned 2ZZ-GE that produces 190 hp.