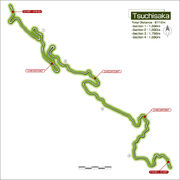 Tsuchisaka is the Saitama Lan Evo Duo's home course. It is located far west of Sadamine; and far northwest of Shomaru, Hanno; stretching between Kanna and Nishi Chichibu of the Gunma and Saitama prefectures.
This course is perhaps famous for the oil spill, courtesy of the Saitama Lan Evo Team, at the start of Outbound Section 2 and near the end of Inbound Section 3.
The Lan Evo drivers tried to use this oil spill to their advantage, but it was only good to wreck Keisuke's car during a practice session, forcing him to borrow Kyoko's car for the race.
The Evo V driver, Aikawa, attempted the same tactic to lure Keisuke into the oil spill early, but to no avail as Keisuke barely missed the slick while the Evo V's engine started to stall before the race could finish because of a barricade narrowing the road later in the race.
This also became Ichijo's tactic to defeat Takumi: Disable the 86 by making it slip and crash. It would also prove to be his undoing as Takumi used the oil spill to his advantage as passed the Evo VI in a matter of seconds.
Community content is available under
CC-BY-SA
unless otherwise noted.