Volume 02 of the Initial D manga was released on the 6th of February 1996. This volume was adapted into episodes 4-8 of Initial D: First Stage, the first anime adaptation of the series.
Manga Titles are listed as such: Translated Name (Japanese Kanji, Romanji), Tokyopop Title
011. "Takumi!! Lightning Speed!" (拓海!!電光石火 "Takumi!! Denkōsekka"), Akina's Phantom Unmasked!
012. "Dogfight!" (ドッグファイト "Doggufaito"), Veteran vs. Rookie
013. "Conclusion!! Takumi's Special Technique!" (決着!!拓海の得意技 "Ketchaku!! Takumi no Tokui Waza"), Tak's Special Finishing Move
014. "The Ocean is So Big and Wide" (海は広いね大きいね "Umi ha Hiroi ne Ōkī ne"), A Trip to the Beach
015. "Showdown at the Peak!!" (頂上対決!! "Chōjō Taiketsu!!"), Showdown at the Summit
016. "Iketani's Valuable Experience" (池谷の貴重な体験 "Iketani no Kichō na Taiken"), Cole's Ride to Remember
017. "A New Challenger!!" (新たなる挑戦者!! "Arata Naru Chōsen Sha!!"), A New Challenger
018. "Takumi's Pride" (拓海のプライド "Takumi no Puraido"), Tak's Pride
019. "I'm Not Afraid of No GT-R!!" (オレはGT-Rなんざ怖くねぇ "Ore ha GT-R Nanza Kowaku nē"), I Ain't Afraid of No Stinkin' GT-R
020. "Give the Eight-Six Back, You Stupid Old Man!!" (バカおやじハチロク返せ!! "Baka Oyaji Hachi Roku Kaese!!"), Stupid Old Man, Where's the Eight-Six?
021. "The GT-R's Weak Spot" (GT-Rの弱点 "GT-R no Jakuten"), The GT-R's Weakness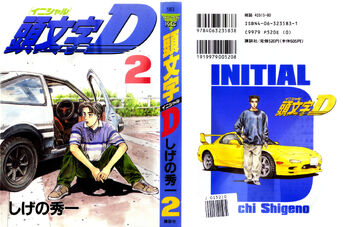 Community content is available under
CC-BY-SA
unless otherwise noted.