Wataru Akiyama (秋山 渉 Akiyama Wataru, known as Aki in the Tokyopop dub of Second Stage) was one of the first racers from Saitama to actually race against Takumi with his turbocharged Levin; he appeared later in the Project D arc, this time replacing the turbocharger with a supercharger for more linear acceleration and to avoid Turbocharger lag.
History
[
]
The New Eight-Six Arc
[
]
Wataru is a skilled driver who honed his skills on the treacherous Shomaru Pass. He came to Gunma in hopes of facing new racers to challenge, as well as to watch over his sister Kazumi, who just got a job at a hotel with her aunt. He was first seen appearing at Akagi to spectate the battle between Ryosuke Takahashi and Kyoichi Sudo.
Later on, after finding out from Keisuke Takahashi that Ryosuke was defeated by another lone racer from Akina who also used an AE86, which was Takumi Fujiwara, Wataru decided to battle against him instead. Earlier he wanted to battle Keisuke at Akagi, but Keisuke declined since it was against the RedSuns's policy to race in their home turf. Still not satisfied, Wataru engages in an impromptu battle, with Kenta spectating behind them. Keisuke and Kenta soon realizes this was no ordinary Eight-Six, as they noticed from its speed and the engine sound, from which they understood it was turbocharged. The battle ended as they both skid to a halt from a crashed car in the middle of the road. Wataru vows to battle with Keisuke later on, with Keisuke looking for the same.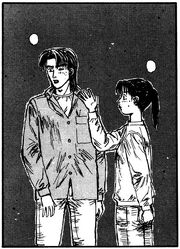 Soon Wataru meets Takumi with Itsuki's help, after knowing his sister was dating him. Later on, after Takumi shows up at Lake Akina where Itsuki with Wataru and Kazumi was waiting, Wataru checks Takumi's engine, after the former tells him that his car had been acting slow, Wataru nearly snaps out and gets angry at Takumi for thinking that Takumi was lying. On seeing Takumi getting angry for thinking Wataru was saying he's lying about his new engine being 'slow', Kazumi suddenly slaps Wataru as for everyone's surprise, as she intended to deescalate the situation.
Wataru leaves the lake and heads to the Akina start line where he stops his car and thinks about the situation. Later on Takumi stops by and he explains to him that his earlier engine blew up and he got an engine swap with this one. Then when Wataru decided to take a ride in Takumi's car to find out the problem, he quickly realizes that the problem was in the tachometer of Takumi's car, which was not yet changed.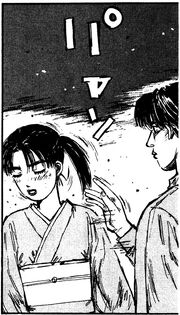 A few days later, Wataru calls Takumi to remind him that he will return to Gunma from Saitama to pick up his sister after hearing complaints about her from her aunt. After arriving, he slaps Kazumi for disobeying his aunt and tells her to pack her things as they will be returning to Saitama after he battle.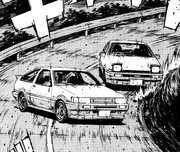 After Takumi upgrades his car's dashboard instruments, and gets information from Bunta about the revs at which the gear should be shifted, Takumi battles with Wataru in Shomaru pass. They start the battle in a cat and mouse chase, as the course was too narrow. Exclusively in the anime, the SpeedStars and the RedSuns spectate the battle, with them explaining the differences in the two 86s and the quirks of Takumi's new N.A. engine against Wataru's turbocharged engine. As per each rounds, Takumi began to adapt to his new engine more, while Wataru observing him getting better each round, praises him for being his opponent. On the 5th round, while Wataru was on the lead, Takumi suddenly overtakes Wataru on a straight, where there was supposed to be a mudslide but after all rounds, its been mostly levelled. Takumi overtakes Wataru while going airborne for a bit while he crossed the slide. Wataru concedes defeat to Takumi and he then picks up Kazumi to go home.
Saitama and Ibaraki Arc
[
]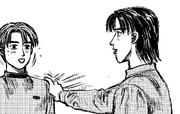 It is later on revealed that Wataru is Nobuhiko Akiyama's cousin, as seen when he watches Project D race against the Northern Saitama Alliance in the hopes of finding a weak spot. They later on meet up with Sakamoto, a rally racer at a restaurant where Nobuhiko analyzes Takumi's driving pattern, and introduces them to a kei car, Suzuki Cappuccino, to which Sakamoto will battle against the Project D.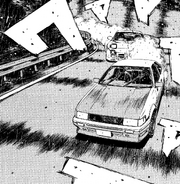 Wataru finally got his chance to battle against Keisuke in Maze Pass in a wet-weather race, this time with his modified supercharged engine. However their battle drained on for some rounds, and as Wataru was on the lead, his tires lost grip upon touching a metal gutter while he adjusted his wipers, causing him to spin out while Keisuke passes him. He was defeated by Keisuke this time officially.
Wataru is seen later on when Kazumi's ex-boyfriend reaches out to him so that he can meet her one last time and confess his mistakes and true feelings her as she was ignoring him. Wataru takes him to a grocery store where Itsuki and Kazumi was, and tells Kazumi there's no point in running away from the past, so she has to face it. Kazumi falls for ex boyfriend, leaving Itsuki heartbroken. The next day, after Takumi finds out about Itsuki at the gas station, who was absent then, Wataru pulls up and apologizes to Takumi for her sister's choices, and tells him to ask Itsuki to find her better girls than her sister.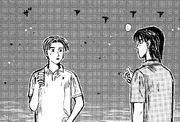 Afterwards Takumi opens up about his "four-wheel drive complex", since he was defeated in Akina by an AWD car. Wataru gives advices about overcoming it, and about the next opponents Project D will face. Afterwards, when Project D won and finished their Saitama expedition, Takumi thanks Wataru for helping him overcome his complex.
After Project D completes their expedition at Ibaraki, Wataru confronts the fake Project D somewhere in Saitama and helps the real Project D expose them as the frauds they are. By that time, he and Keisuke Takahashi had become close buddies, as seen by their responses.
Kanagawa Expedition
[
]
He later watches the final races between Project D and Sidewinder along with Nobuhiko and Sakamoto. Exclusively in Final Stage he is seen with other teams congratulating Takumi after winning his battle against Shinji Inui.
Etymology
[
]
The name Wataru means "ford, ferry, port" (渉).
Wataru's surname Akiyama means "autumn" (秋) (aki) and "mountain, hill" (山) (yama).
Trivia
[
]
Wataru's Tokyopop nickname "Aki" is only used in the dub of Second Stage and the Sega localisation of the Arcade Stage games, as he retains his original name in the manga.
Wataru is present in MF Ghost, where he is presented as a commentator on the third round of the MFG.
Gallery
[
]
Miscellaneous
[
]
Manga
[
]
The New Eight-Six Arc
[
]
Saitama and Ibaraki Arc
[
]
Kanagawa Expedition Arc
[
]
Anime
[
]
Second Stage
[
]
Fourth Stage
[
]
Fifth Stage
[
]
Final Stage
[
]
Games
[
]
Appearances
[
]
Anime
[
]
Manga
[
]
Games
[
]
[

]